and that is that bad things come in threes.
Just think about the stories you grew up with. Three blind mice (poor mice),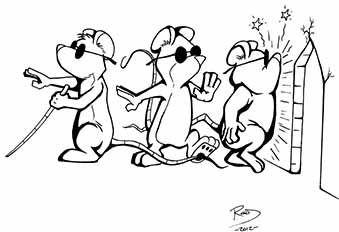 Three little Kittens who lost their mittens,
and then there's the Three little pigs (gasp!).
Okay, there's also the Three Musketeers (but there were really four - remember D'Artagnan)
and the Three Amigos
but I digress. . . . . .
.
And then there's the appliance conspiracy. Have you ever noticed when one appliance dies it is followed quickly by two more.
Is it a conspiracy or collusion?
Today was clean all THREE bathrooms day. They get cleaned frequently enough but seldom all on the same day and I have to say it's a bad idea! There are only two of us here, why do I have three bathrooms?
I know I'm way out of shape when I get winded scrubbing a tub.
Robin
Actually my bathrooms look more like this.
All images are from the internet.